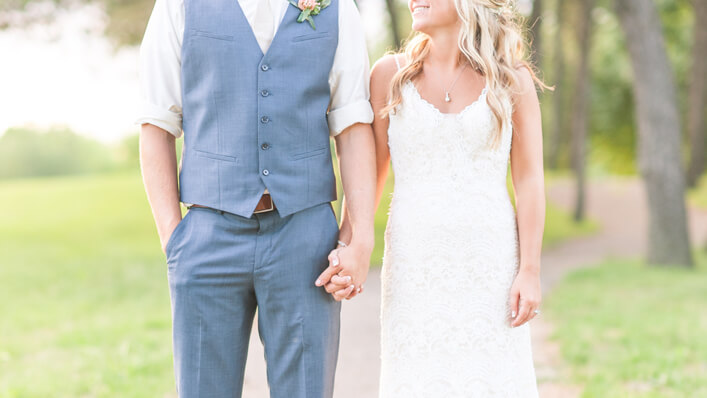 One morning in college, I woke up, got ready and drove to a church to buy myself a purity ring. My heart ached a little bit at the thought of it because even at that time, the last word that I would have used to define myself was "pure."
Maybe regretful, ashamed, dirty, totally undeserving of an honorable man's affections.
Sure.
But definitely not pure.
Here's a little backstory: I had made many commitments to make drastic changes to my life before this day, but those empty words often resulted in nothing. I continued living my life the only way that I knew how.
I jumped from relationship to relationship because I was insecure and dependent. If I even felt that a relationship was on the rocks, I would make sure I had someone else waiting in the background. Sad, right? My heart was a torn-up piece of cloth and I kept trying to patch it with the wrong things.
There was one specific day when I found out that my on-and-off again boyfriend of three years was dating someone new. I had given everything to him and that physical and emotional connection meant double the heartbreak. It crushed me. My mind ran wild and my heart physically hurt for months.
But instead of healing in a healthy way, I decided to heal my broken heart by seeking more attention. I drank a lot and made bad decisions. I forced myself to date people who were never a good fit in the first place, because "I just wanted to be happy."
However, it made me feel the exact opposite. I often went home crying, depressed and broken after a night out. I asked myself: "Why do I keep going back to this lifestyle if it makes me so unhappy?" I couldn't answer that. And yet, I still ensured that I had someone on speed dial to keep me company, just in case the feeling of brokenness began creeping back up on me. And it always did. It always does, doesn't it? I was a wretched mess who couldn't stand on my own two feet without fake love and empty affection.
But God.
I gave my life to Jesus when I was 19. I have loved Him and failed Him ever since that day, but He still loves me endlessly. If I'm honest, my surrender to Him was initially more of a moment of "nothing else is working, so I might as well try this." But God is good and gave grace despite my selfishness. And after I surrendered it all to Him — the filth, the despair, the loneliness —I knew something was about to be different.
My desires were different. God was changing my present. And little did I know, He was drastically changing my future the moment that He led me to buy that ring.
I knew something new was coming. I was so ready and excited to destroy the life that made me feel undeserving and shameful and turn it into a distant memory.
After I purchased the ring that day, I got into my car and I shut the door. As soon as I placed it on my finger, I began to cry. I broke down into an overwhelming sob which led to a full-on ugly cry. I couldn't have even prepared myself for the beautiful emotions I felt or the thoughts that ran through my mind.
I kept hearing this verse: "If anyone is in Christ, He is a new creation. Old things have passed away; behold, all things have become new." (2 Corinthians 5:17)
And in that moment, I felt a lot of things. But more than anything, I felt free.
Free from the obligation to be someone I never really wanted to be.
Free from allowing myself to feel used, just because I was lonely.
Free from permitting someone who called only when he "felt like it" to define every ounce of my worth.
Free from seeking attention and praise for my looks or my body.
Free from the desire to give myself up to anyone, especially who wouldn't walk a mile for me—let alone 500.
I was free from the life that was so far from what was intended for me.
And that life is also so, so far from what is intended for you.
You are more than your mistakes. You are loved, precious and worthy. Whatever it is that you are dependent on or in bondage to, God is offering you a fresh start.
You may be married now and bear the burden of guilt for your past decisions. Or you are in the midst of living out these mistakes today, seeking a way out without any direction. Either way: You are loved. You may not have deserved a second chance, but you are offered one. And today you have the choice to choose Him — over yourself — and begin afresh.
I've been married to my husband, Jesse, for five years now. He and I fought really hard to remain pure until we were finally married. And it was so worth it. Some people mocked it, but I didn't mind. I was secure in the belief that God created intimacy for my husband and him alone. I was content in waiting (even when it got really stinking hard).
Jesse loved God enough and loved me enough, actively to show me that his priority was my heart and not my body. I had never been offered that kind of respect before. I had never even tried to earn it.
The closeness in our relationship was unmatched because we spent time talking and learning about one another rather than leaning on intimacy as a crutch.
He displayed an unconditional love for me that I had never once received in my life. He made me feel really, truly loved. He would have walked 500 miles for me without a second thought. And he made me feel like I was worth waiting for.
My story was no longer one of shame, but one of redemption. It's a story of ashes to beauty because of forgiveness and love.
It's never too late to start over. God moves in us. God heals us day after day from the brokenness we cause for ourselves. He fills our lives with a fullness that we can't even fathom without Him. And He loves you enough to set you on a new path.