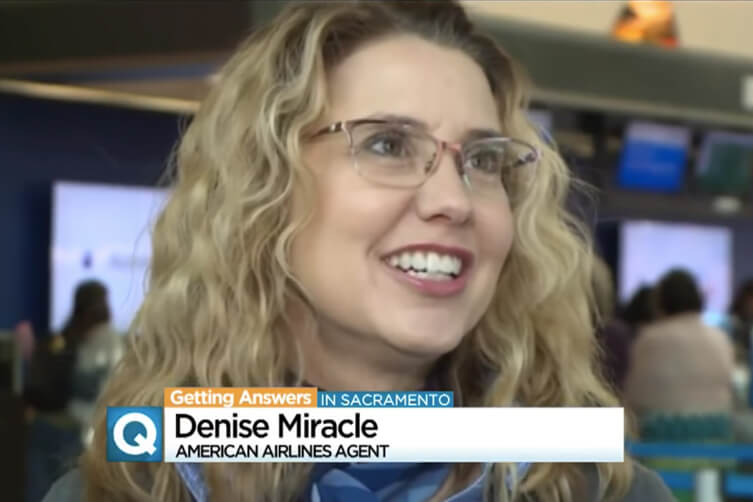 Two teens are safe this week after God used a miracle—quite literally—to save them from becoming victims of human trafficking.
Denice Miracle is a ticketing agent for American Airlines at Sacramento International Airport in California. She was facilitating the boarding of a plane from Sacramento to New York when two young girls, ages 15 and 17 approached her ticket counter and set off some serious red flags.
The teens were not traveling with an adult, and neither had any form of identification; just two first-class tickets to the Big Apple, and a small set of bags.
Miracle felt confident that the girls' final destination was not what they believed it to be. She looked into their travel information and discovered that both of the girls had one-way or multi-stop tickets that had been purchased with a fraudulent credit card.
Concerned that the girls may unknowingly become victims of human trafficking, Miracle contacted Sacramento Sheriff's Deputy, Todd Sanderson.
Investigators learned that the tickets had been bought for the girls by a man they called "Drey," who they met on Instagram. "Drey" allegedly sold the girls on a promise that by coming to New York, they could earn $2,000 by modeling and performing in music videos.
Thanks to Miracle's quick thinking and human trafficking training, Drey's master plan was derailed—this time.
"I fully believe she probably prevented these girls from becoming victims," Sanderson told Fox 40 of Denice Miracle.
American Airlines applauded Miracle for her discernment and alertness while adding that increased training across the company in these circumstances, likely prepared her in recognizing the signs of human trafficking.
Last summer, American Airlines amped up their efforts to collectively prevent human trafficking and child sexual exploitation by joining forces with End Child Prostitution and Trafficking USA. The initiative has set out to train all 120,000 of the airline's employees on how to effectively spot the signs of human trafficking, as well as the appropriate policies and protocols for when they do come in contact with such.
Modern-day slavery is often hidden in plain sight, and it's happening all around us. It's everyday heroes like Denice Miracle that make our country a safer, better place to be—even amidst the schemes and wrong-doings of terrible people.