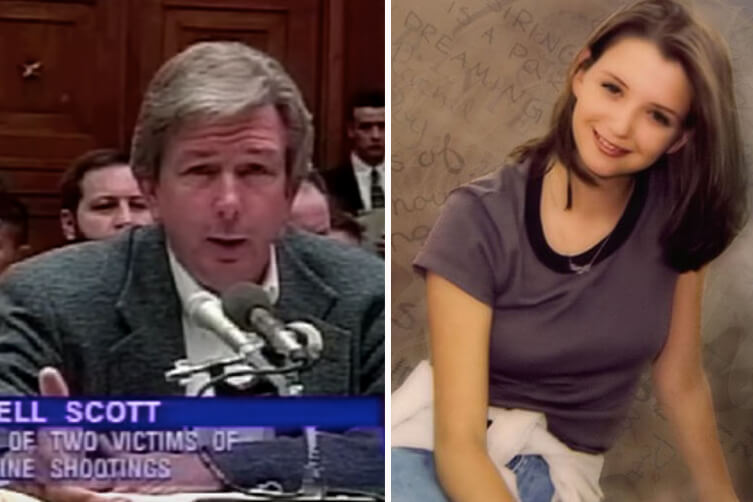 It happened again last week—another school shooting.
Another school full of innocent young lives, and incredible, heroic teachers, was shot up by a disgruntled student named Nikolas Cruz in Broward County, Florida.
As the news made headlines, and my heart broke all over again (as it does on what seems like a weekly basis following similar reports), I couldn't help but think back to the original school shooting—the one that "started it all," if you will.
Growing up in Colorado, I've known about Columbine my whole life. I was just five years old when Eric Harris and Dylan Klebold opened fire on their fellow students in the school library on April 20. But their actions and the horror that followed was engrained in me as a student from that day forward.
As I got older and began high school myself, I participated in sporting events at Columbine. I've walked the halls and imagined that tragic day with a completely broken heart.
Then, my sophomore year, a man named Darrell Scott spoke at my high school assembly. It's a day I will NEVER forget.
2,600 students packed the bleachers of my high school gym, as Darrell Scott shared his daughter Rachel's story.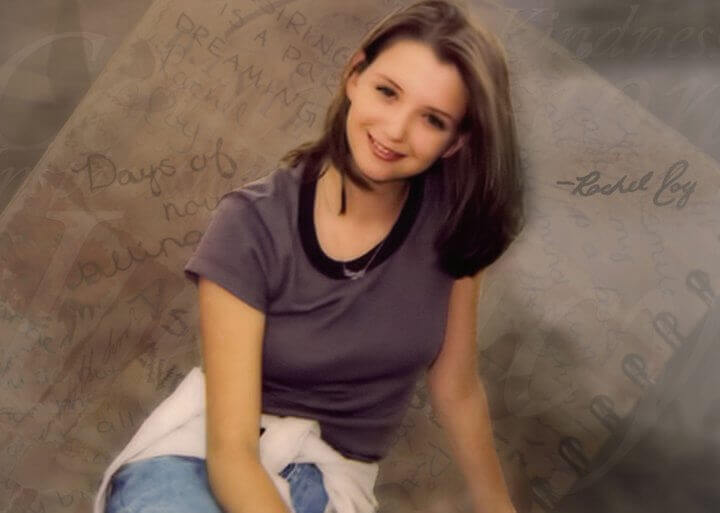 On the day of the shooting, the 17-year-old was the first person shot on the school's campus. Dylan and Eric shot her twice in the leg and once in the back. The boys walked away but returned seconds later after seeing she was still alive. Dylan grabbed her by the hair and asked, "Do you still believe in your God?"
When her unflinching and unwavering response was,"You Know I Do," Eric looked her in the eye and told her, "Then go be with him," and he shot her in the head.
Rachel's incredible faith has gone on to inspire millions, as Scott works tirelessly to carry out her legacy through the nonprofit, "Rachel's Challenge."
As part of his efforts, Darrell had the opportunity in 2012 to deliver a most beautiful and eloquent speech before the House Judiciary Committee's subcommittee.
If it were most parents in Darrell's shoes—having lost a child to the same heinous acts of violence that continue to threaten every schoolchild's life today—I can imagine their plea to the House of Representatives might include something about gun control. Perhaps they would place blame, call for action, demand stricter laws, and ultimately seek comfort in change and ramifications that might bring justice to their circumstance.
But not Darrell Scott.
Darrell brought the Gospel to Washington with him, and his speech before the House committee is so perfectly articulated, I feel like Jesus himself would see it worthy of a mic-drop.
"The first recorded act of violence was when Cain slew his brother Abel out in the field. The villain was not the club he used.. Neither was it the NCA, the National Club Association. The true killer was Cain, and the reason for the murder could only be found in Cain's heart.

In the days that followed the Columbine tragedy, I was amazed at how quickly fingers began to be pointed at groups such as the NRA. I am not a member of the NRA. I am not a hunter. I do not even own a gun. I am not here to represent or defend the NRA – because I don't believe that they are responsible for my daughter's death. 

Therefore I do not believe that they need to be defended. If I believed they had anything to do with Rachel's murder I would be their strongest opponent.

I am here today to declare that Columbine was not just a tragedy — it was a spiritual event that should be forcing us to look at where the real blame lies! Much of the blame lies here in this room. Much of the blame lies behind the pointing fingers of the accusers themselves. I wrote a poem just four nights ago that expresses my feelings best.

Your laws ignore our deepest needs, 

Your words are empty air. 

You've stripped away our heritage, 

You've outlawed simple prayer. 

Now gunshots fill our classrooms, 

And precious children die. 

You seek for answers everywhere, 

And ask the question 'Why?' 

You regulate restrictive laws, 

Through legislative creed. 

And yet you fail to understand, 

That God is what we need!

Men and women are three-part beings. We all consist of body, mind, and spirit. When we refuse to acknowledge a third part of our make-up, we create a void that allows evil, prejudice, and hatred to rush in and wreak havoc. Spiritual presences were present within our educational systems for most of our nation's history. Many of our major colleges began as theological seminaries. This is a historical fact. What has happened to us as a nation? We have refused to honor God, and in so doing, we open the doors to hatred and violence. And when something as terrible as Columbine's tragedy occurs — politicians immediately look for a scapegoat such as the NRA. They immediately seek to pass more restrictive laws that contribute to erode away our personal and private liberties. We do not need more restrictive laws. Eric and Dylan would not have been stopped by metal detectors. No amount of gun laws can stop someone who spends months planning this type of massacre. The real villain lies within our own hearts.

As my son Craig lay under that table in the school library and saw his two friends murdered before his very eyes, he did not hesitate to pray in school. I defy any law or politician to deny him that right! I challenge every young person in America , and around the world, to realize that on April 20, 1999, at Columbine High School prayer was brought back to our schools. Do not let the many prayers offered by those students be in vain. Dare to move into the new millennium with a sacred disregard for legislation that violates your God-given right to communicate with Him. To those of you who would point your finger at the NRA — I give to you a sincere challenge.. Dare to examine your own heart before casting the first stone! 

My daughter's death will not be in vain! The young people of this country will not allow that to happen!"
Darrell's honest account and contagious belief is one that every parent in Florida and beyond can relate to right now.
The shooting at Marjory Stoneman Douglas High School did not happen because of the NRA. It wasn't a result of lenient gun laws or strict gun laws or any other political measure you could argue to place blame on someone or something other than Nikolas Cruz.
We live in a battlefield. Not one riddled with bullets that cause us to bleed—though it seems like that more and more. Paul says in Ephesians 6:12 that our struggle is not one of flesh and blood, but against the rulers, against the authorities, against the powers of this dark world and against the spiritual forces of evil in the heavenly realms.
Our battle—these terrible, unfathomable and tragic acts of violence are matters of spiritual warfare.
Verses 13-17 go onto explain how we, in all of our human-ness, are to defeat the schemes of Satan and be victorious over the attacks that come our way.
"Therefore put on the full armor of God, so that when the day of evil comes, you may be able to stand your ground, and after you have done everything, to stand. Stand firm then, with the belt of truth buckled around your waist, with the breastplate of righteousness in place, and with your feet fitted with the readiness that comes from the gospel of peace. In addition to all this, take up the shield of faith, with which you can extinguish all the flaming arrows of the evil one. And take the helmet of salvation and the sword of the Spirit, which is the word of God."
In hearing her story, and witnessing Darrell's faith laid out before Washington's politicians, I'm confident that Rachel took up the full armor of God in her daily life. Not only was she clothed in strength and dignity like the Lord says in Proverbs 31:25, but Rachel was clothed in the belt of truth and the breastplate of righteousness. Her feet were fitted with the readiness of the Gospel of peace, and she donned the helmet of salvation. She carried with her the shield of faith and the sword of the spirit, and in her dying moments, even Dylan and Eric's BULLETS could not silence the power of the spirit in her.
It's a scary time in a scary world, where parents and teachers and students alike, are entering educational facilities on a daily basis, with a fear in the back of their mind, that they might be next.
I want you to know today, that you don't have to live in fear. Not in fear of people, not in fear of guns, and not in fear of people with guns. Because at the end of the day, if you're living a life like Jesus, you can expect to be persecuted.
So don't walk in fear of the fiery arrows that may quite literally come your way. But let's instead teach our kids about the spiritual forces that shape this world. Let's lead a generation who knows to take up the full armor of God, and not run from trials, but find joy, and peace and sanctification in the persecution.
May you be inspired by Darrell Scott and his daughter Rachel today. And may their story, their words, and their faith, serve as an inspiration to all in this dark and evil time.