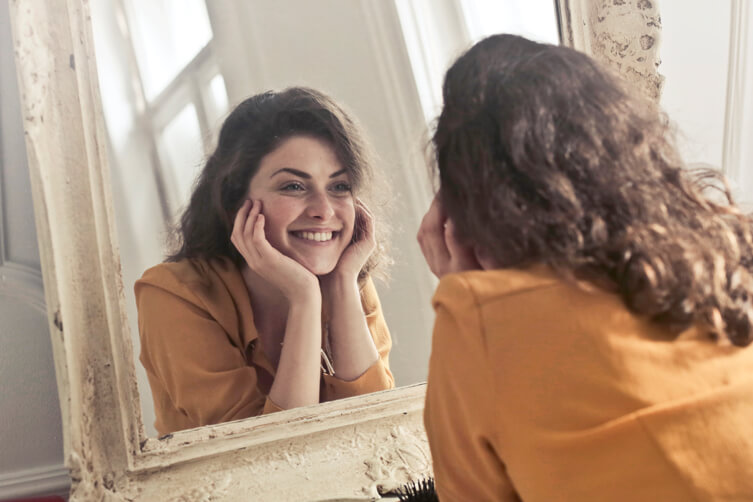 I don't have self-confidence.
There, I said it.
I've spent a lot of my life trying to find it, trying to take hold of it. I've read the self-help books, made bold self-declarations, and tried to find it in success and achievements. I've tried to pretend that I have it, wearing the mask of self-assuredness and independence. But I never truly found it.
And I'm glad. You see…
I don't have it, and I don't want it.
Merriam-Webster's and Oxford Dictionaries define self-confidence as:
"Confidence in oneself and in one's powers and abilities. A feeling of trust in one's abilities, qualities, and judgment."
I realize it's strange to say that I don't want self-confidence; it goes completely against our cultural emphasis on self-worth, self-esteem, and self-confidence. We go to great lengths to boost our own self-confidence or that of our children and loved ones; we give "participation awards," place the label of "haters" on anyone who dares to disagree with us or point out our flaws, and spout an endless stream of cliché motivational phrases.
Now, I'm not trying to say that we should put each other down with incessant criticism or degradation. Far from it! Our words are powerful and should be used to build one another up, not tear each other down. But there is a harsh, yet beautiful reality about humanity that we seem to be intent on hiding under layers of self-esteem and self-confidence. The reality is that because of the Fall (Genesis 3), the human race is flawed and broken, stained by a sin nature that causes us to be less than what God intended.
"The heart is deceitful above all things, and desperately wicked: who can know it?" (Jeremiah 17:9, KJV)
"Thus says the Lord, 'Cursed is the man who trusts in mankind and makes flesh his strength, and whose heart turns away from the Lord." (Jeremiah 17:5, ESV)
As a Christ follower, I live in constant awareness of my own sinful nature, my propensity for wickedness, and my utter helplessness to do anything about it. And for that reason, I cannot find any confidence in my own abilities, qualities, or judgments. Paul, the man who penned the majority of our New Testament, beautifully explained the struggle and tension that every human on the planet faces, whether they recognize it or not:
"For I know that good itself does not dwell in me, that is, in my sinful nature. For I have the desire to do what is good, but I cannot carry it out. For I do not do the good I want to do, but the evil I do not want to do – This I keep on doing. […] What a wretched man I am! (Romans 7:18-19, 24a, NIV)
It is a somber and humbling reality to come to terms with, to accept and even embrace your own wretchedness… to stop trying to cover up your brokenness or put a good spin on it. It's not a comfortable place to be, but it is only in that place of brokenness and helplessness that we recognize our need for a Savior. This is what Jesus refers to in the Beatitudes when he says, "Blessed are the poor in spirit, for theirs is the kingdom of heaven." (Matthew 5:3, NIV)
"The greek for 'poor in spirit' indicates a cringing beggar, absolutely dependent on others for survival. Not a flattering picture of us![…] yet the kingdom of heaven belongs to those who experience their dependency." (Cloud and Townsend, "How People Grow")
If Romans 7:24 were the end of the story, it would be a miserable one indeed. But praise God, it isn't! Our Heavenly Father doesn't leave us there, helpless and dejected.
"Who will rescue me from this body that is subject to death? Thanks be to God, who delivers me through Jesus Christ our Lord!" (Romans 7:24b-25)
In his life, death, and resurrection, Jesus did for us what we could never do for ourselves. He set us free from the reign of sin and death so that we can partake in HIS life. Our "self" is not something to be improved, built, or strengthened; it is to be crucified, done away with so that we can fully embrace the true Life that has been offered to us.
"I have been crucified with Christ and I no longer live, but Christ lives in me. The life I now live in the body, I live by faith in the Son of God, who loved me and gave himself for me." (Galatians 2:20, NIV)
I will gladly embrace a life without self-confidence because I have a confidence that is far greater; my confidence is in Jesus Christ and the power of the Holy Spirit working in and through me. It is only because He lives in me and through me that I can have confidence in anything that I say or do!
"I say to the Lord, ' You are my Lord; I have no good apart from you." (Psalm 16:2, ESV)

"Not that we are sufficient in ourselves to claim anything as coming from us, but our sufficiency is from God." (2 Corinthians 3:5, ESV)
I pray that I would never substitute my confidence in God for fragile puffed-up self-confidence! I pray that for the rest of my life I would glory in my own weakness so that His power can be made perfect in me. How glorious to live a life that is not dependent on our own power or abilities, but on those of the Omnipotent God! What freedom and strength we can approach this life and its challenges with if our confidence rests not in ourselves, but in God!
"And above all, believe most confidently that Jesus Christ Himself delights in maintaining that new nature within you, and imparting to it His own strength and wisdom for its work. Let that faith lead you daily to the surrender of all self-confidence, and the confession of the utter corruption of all there is in you by nature. Let it fill you with a quiet and assured confidence that you are indeed able to do what the Father expects of you as His child, under the covenant of His grace, because you have Christ strengthening you." (Andrew Murray)