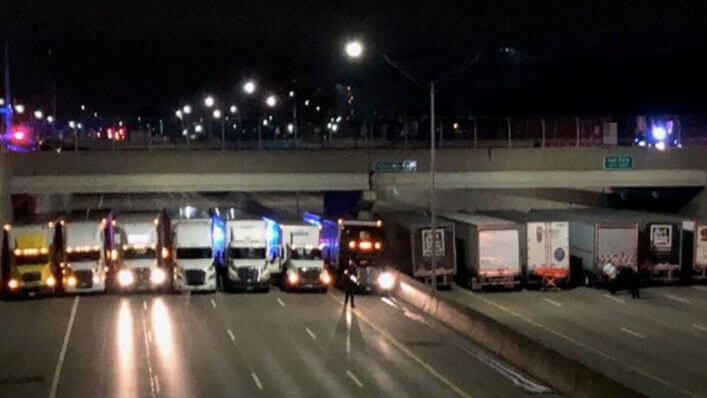 With all of the negative news in the world today, it's truly a beautiful thing when we see people coming together and selflessly doing something to help another.
That sense of comradery is exactly what came to mind as this picture of semi-trucks lining the highway made its rounds across the internet yesterday.
This photo does show the work troopers and local officers do to serve the public. But also in that photo is a man struggling with the decision to take his own life. Please remember help is available through the National Suicide Prevention Lifeline at 1-800-273-8255. pic.twitter.com/RBAlCIXT1o

— MSP Metro Detroit (@mspmetrodet) April 24, 2018
The Suicidal Man
Michigan State Police, along with the help of 13 semi-trucks on Interstate 696, saved a man's life early Tuesday morning when he tried to commit suicide.
After receiving a 1 a.m. call about a suicidal man on the highway overpass, police rushed to the scene. They blocked all lanes of traffic, then waved down several 18-wheelers, asking them to park alongside each other under the overpass. The wall of semi-trucks stretched across all of the westbound and eastbound lanes of the interstate — 13 trucks in total — creating a shorter distance for the man to fall if he did, in fact, decide to jump.
Police negotiated with the man for several hours before he surrendered to their protection and walked off the overpass with the help of negotiators. Officers brought him to Beaumont Hospital for further psychological care.
The footage is spreading some much-needed praise to the police, first responders, and service men and women across our country, who go out of their way to ensure the safety and security of the community in which they serve.
---
If you or someone you know is distressed, please know you are not alone. Suicide is completely preventable. There is hope. PLEASE reach out if you are experiencing suicidal thoughts, or fear that someone you love might be.
If you need support right now, call the National Suicide Prevention Lifeline at 1-800-273-8255, or text "START" to 741-741.