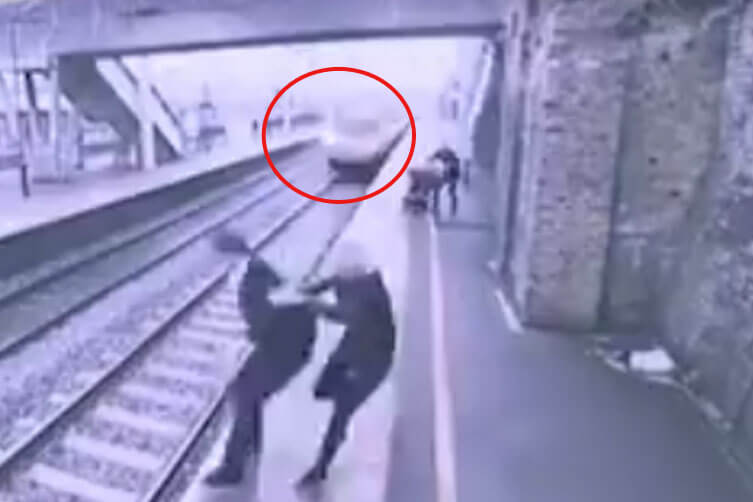 Video footage of the heroic actions of a UK woman is making the rounds this week after her compassion led to a split-second tackle that saved a man's life.
The woman was walking along the train platform with her husband and small child when they passed a distressed man talking on the phone. He's visibly upset and outraged.
As they pass by, the woman takes notice, even making a comment to her husband and gesturing with her hands back toward the man, as if they should both be concerned.
Seconds later, the suicidal man slams his phone on the ground, unknowingly catching her attention again. This time she turns towards the tracks, and as she approaches him, he takes off bolting, full speed ahead at the rapidly approaching train.
Without hesitation, the woman took off after him. Launching her entire body at him in a full tackle away from the tracks, he falls to the ground as the speeding train passes by them. Not only did she save his life, but her incredible courage even meant risking her own to do so.
There aren't too many people today who would risk their lives for a stranger.
The video footage of the encounter can only be described as heart-pumping. At first, it's difficult to gauge just how quickly it all happened, but if you blink, you might just miss it.
If you take the time to care, you might save a life 🙏 pic.twitter.com/2eZWZ5MgDY

— The Invisible Man (@invisibleman_17) January 17, 2018
The clip has gone viral on Twitter with over 66,000 retweets since it was first posted on January 17th.
This man is alive today because of the compassion and courage of another. May it serve as an encouragement to simply be aware of those around you today. Be kind to everyone, and when necessary, don't hesitate to act.
If you or someone you know is struggling with a mental illness, please know you are not alone. Suicide is completely preventable. There is hope. PLEASE reach out if you are experiencing suicidal thoughts, or fear that someone you love might be.
If you need support right now, call the National Suicide Prevention Lifeline at 1-800-273-8255, or text "START" to 741-741.