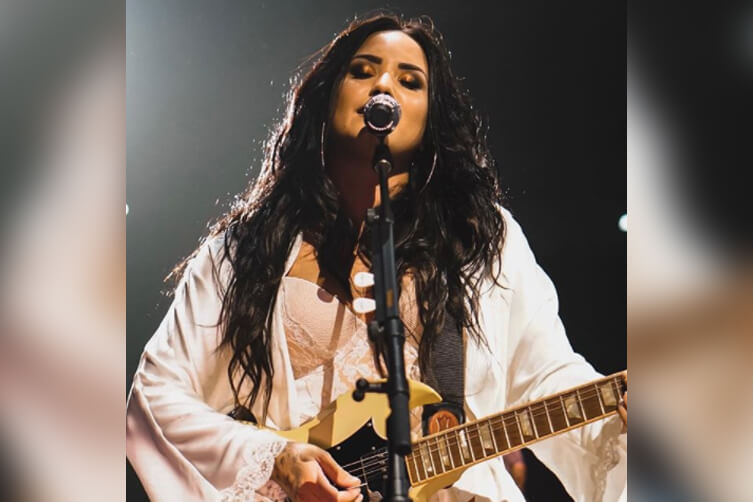 An outspoken mogul for all things mental health, we can't help but love Demi Lovato.
Instagram
In a world that fosters a stigma around mental illness, Demi Lovato uses her platform as a pop sensation and voice of the millennial generation to slay the stigma and talk about REAL issues that affect her and her fans.
The 25-year-old has long been an open book when it comes to discussing her personal battles with depression, anxiety, bipolar disorder, bulimia, and addiction.
So when this past Friday marked an incredible milestone in her journey, you better believe her fans were the first people she shared it with.
While performing at the Barclays Center in Brooklyn, Demi broke the usual routine of her show to be candid with the audience about her sobriety, and include them in celebrating her "6-year sober birthday."
"Yesterday was a really big day for me," Demi Lovato started.
Instagram
"Yesterday, six years ago, I was drinking vodka out of a Sprite bottle at 9 in the morning, throwing up in the car. And I just remember thinking, 'This is no longer cute. This is no longer fun. And I'm just like my dad,'" she said from behind a grand piano on stage.
"So I took a look at my life and I said, 'Something has to change, something has to change. I've got to get sober.' So I did," she says through tears. "I made changes in my life, and the reason I became so open about my story is because I know that there are people here tonight that need to ask for help, and I want you to know that it's okay."
Per her usual passionate self, Demi took to her soapbox and PREACHED the importance of destroying the mental health stigma.
"Mental health is something that we all need to talk about, and we need to take the stigma away from it. So let's raise the awareness. Let's let everybody know it's okay to have a mental illness, it's okay to have an addiction problem. I'm bipolar — like, whatever! I take care of myself. And I can never say 'Thank you' enough to you guys for the support that you've given me over the years, and you've forgiven me for my mistakes."
Demi credited her fans with saving her life and thanked them for their unconditional love and support.
"Thank you for being a part of saving my life. I love you guys."
The pop star later tweeted that the emotional show was one she will never forget.

Her story is LIVING PROOF that your past does NOT define your future, and not a soul on this earth is too far gone that they can't be saved. Your life is worth saving, you are not alone in your fight, and there IS redemption on the other side of addiction. Mental illness is not your identity, and the stigma has no place in 2018.