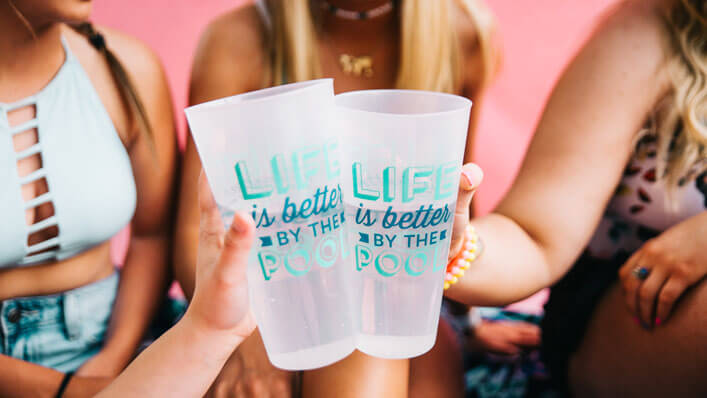 Summer is here! And you know what that means: overpacked schedules of ALL the summer things, mixed in with a few good sunburns, and a lot of realization that time really does fly when you're having fun.
For most people, summer is thought to be a relaxing time filled with fruity drinks, backyard barbecues and splashing around all the day long. But the reality is, that summer comes and goes in a way we only wish winter could. And if you blink, or don't take your wellness seriously, you might just miss it!
Here are 5 Wellness Tips For Getting the Most Out of Your Summer!
Don't just skip over this step with a sarcastic "duh." Sunscreen seems like an obvious tip, but think about how many times you spend outside in the summer without thinking twice about protecting your skin! Get the most out of your summer by investing in a quality, healthy sunscreen that you like, and make a daily routine of putting it on before you leave the house.
Many sunscreens have toxic ingredients and chemicals in them that actually do more harm than good. So while it's important to cover up, do your research ahead of time, and make sure you're investing in something that will protect your skin without causing harm to your body. Check out the Environmental Work Group's FULL sunscreen guide!
Don't let a blistering sunburn keep you inside this summer. Be proactive, cover-up, and protect yourself from the sun.
2. Drink Water
Summer tends to be a time where eating out with friends, or vacation foods take priority over our usual meal habits. It can be easy to pack a cooler full of soda, or grab an ice cold coke after a day at the beach, but don't forget the H2O.
Part of protecting your skin is nourishing it from the inside, out. Challenge yourself to drink a full bottle of water before heading for that cold soft drink, and keep track of how much of it you're putting into your body. A full day in the sun is the ultimate dehydrator, and drinking sugary soft drinks only make things worse. Hydrate yourself first. Your body will thank you.
3. Take Walks
There's no better excuse for getting outside than comfortable summer evenings that last forever. Take advantage of the long summer days by going on walks.
Whether you prefer evening walks after dinner, or early in the morning before work, there's no better way to gear up for the day or unwind, than strolling along with the patterns of the sun. Make it part of your daily summer routine. Not only will you get some extra exercise, but your soul will thank you for the breath of fresh air that we all desperately need.
4. Learn when to say "yes"
Summer is full of outdoor activities, concerts, mission trips, time at the beach, camps, family vacations, and a million other things we'd all rather be doing than working. The list can actually be overwhelming.
For most of us working your typical 9-5 job, summer is what we tend to save our vacation days for. Of course, if you have "FOMO," or "fear of missing out" like I do, it can be mentally draining trying to figure out how to prioritize what you want to do.
Here's the bottom line: you won't be able to do everything, but it's important that you do some things.
Summer is a time to mentally unwind. In America, our brains are trained this way from the minute we're born. Once fall comes around, it's like hitting a refresh button, and starting the hard work again. So if you don't put the time in now to mentally recharge, the winter months are going to come around and DESTROY you.
At the end of the day, the days-worth of salary you'll get out of working, cannot compare to soul-satisfying rest that comes from taking time off. Know when to say yes this summer, and recharge your batteries.
5. Do something you've never done before.
When I was a kid, I'd always make a summer "bucket list." It was chalk-full of things I either knew I was going to do, or things I wanted to do because it was summer and the only time of the year (or my life apparently) that I thought I could possibly do them.
If you're taking the time off anyway for summer activities, use it to do something totally new. New things are refreshing to the soul. It doesn't have to be anything extravagant, simply use your time to see something you never have. It could be exploring a state park that's right in your backyard, or visiting a whole new country. The possibilities are endless.
This time of year is meant to be refreshing. It's a lighter load, a more flexible season, and a time to recharge. Make the most of your entire year by using your summer well.