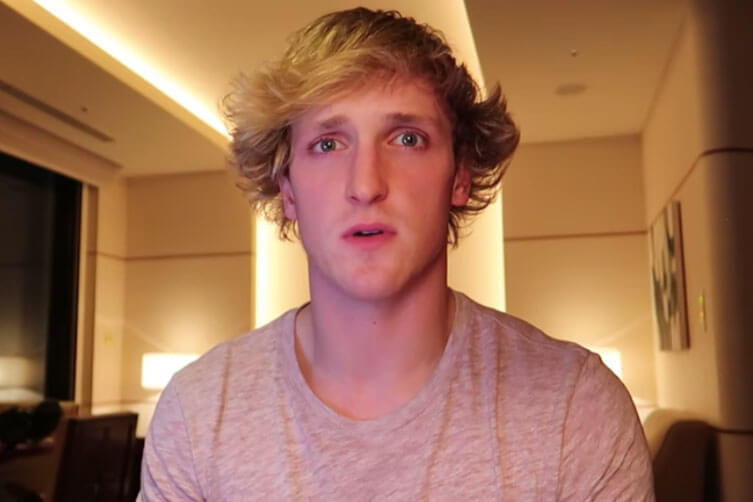 It's been nearly two weeks since wildly popular YouTube vlogger, Logan Paul, came under fire for publishing a disturbing video featuring the body of an apparent suicide victim in Japan's Aokigahara forest. Located at the base of Mt. Fuji, the Aokigahara forest is known widely across Japan as the "suicide forest."
Outraged members of the internet community have spoken out continuously in the days since Paul first posted, then later deleted the video.
YouTube has finally addressed the 22-year-old's punishment.
On Wednesday, the video content platform announced that it will drop Paul's YouTube channels, which have more than 20 million subscribers combined, from its Google Preferred program.
Google Preferred gives YouTube's most popular accounts access to premium advertisers, which translates into a greater opportunity to earn higher revenue beyond the platform's basic monetization program.
Put simply: YouTube is demoting Logan Paul.
Paul's videos will still be available across YouTube, and he will still be able to earn money through YouTube's normal monetization program, but not nearly the payroll he was seeing as a Google Preferred member.
YouTube also announced that Paul will be removed from his roles on the platform's scripted programming. He was booted from the fourth season of the YouTube Red series, "Foursome," in which he previously appeared. Paul was also said to be starring in YouTube Original movie, "The Thinning: New World Order," which has since been put on hold.
The controversy ensued earlier this month when Paul posted a video titled, "We Found a Dead Body in Japan's Suicide Forest," to YouTube on December 31, 2017.
The 22-year-old internet sensation, whose primary audience is 10-15-year-olds, was accompanied by a group of friends on the slopes of Mt. Fuji when just minutes into filming, they came across the body of an apparent suicide victim.
Rather than turning off the cameras, Paul and his entourage made entertainment of the situation, making jokes and later uploading the 15-minute video to his channel.
After Twitter unleashed a firestorm of outrage and criticism, the vlogger removed the video 24 hours later. It had already been viewed over one million times.
In a lackluster apology on Twitter, which many found to be apathetic and self-seeking, Paul claims his motives in posting the video were to "raise awareness about mental health," not get views.
Dear Internet, pic.twitter.com/42OCDBhiWg

— Logan Paul (@LoganPaul) January 2, 2018
The internet didn't show much remorse.
Dear @LoganPaul,

When my brother found my sister's body, he screamed with horror & confusion & grief & tried to save her. That body was a person someone loved.

You do not walk into a suicide forest with a camera and claim mental health awareness.

— Anna Akana (@AnnaAkana) January 2, 2018
Many lobbied for the YouTube star to be banned from YouTube altogether, while others called on the vlogger to donate his earnings to suicide awareness organizations.
Meanwhile, YouTube has come under its own hailstorm of fire from critics outraged over the platform's lack of response concerning the matter.
A company representative addressed users on Tuesday in "An Open Letter to Our Community," which was shared on Twitter.
An open letter to our community:

Many of you have been frustrated with our lack of communication recently. You're right to be. You deserve to know what's going on.

— YouTube (@YouTube) January 9, 2018
Like many others, we were upset by the video that was shared last week.

— YouTube (@YouTube) January 9, 2018
Suicide is not a joke, nor should it ever be a driving force for views. As Anna Akana put it perfectly: "That body was a person someone loved. You do not walk into a suicide forest with a camera and claim mental health awareness."

— YouTube (@YouTube) January 9, 2018
We expect more of the creators who build their community on @YouTube, as we're sure you do too. The channel violated our community guidelines, we acted accordingly, and we are looking at further consequences.

— YouTube (@YouTube) January 9, 2018
It's taken us a long time to respond, but we've been listening to everything you've been saying. We know that the actions of one creator can affect the entire community, so we'll have more to share soon on steps we're taking to ensure a video like this is never circulated again.

— YouTube (@YouTube) January 9, 2018
The "open letter" did not actually state Logan Paul's name nor did it address his punishment. It appears to have simply been a long-overdue PR move from the video giant.
If you or someone you know needs help, call 1-800-273-8255 for the National Suicide Prevention Lifeline. You can also text HELLO to 741-741 for free, 24-hour support from the Crisis Text Line.