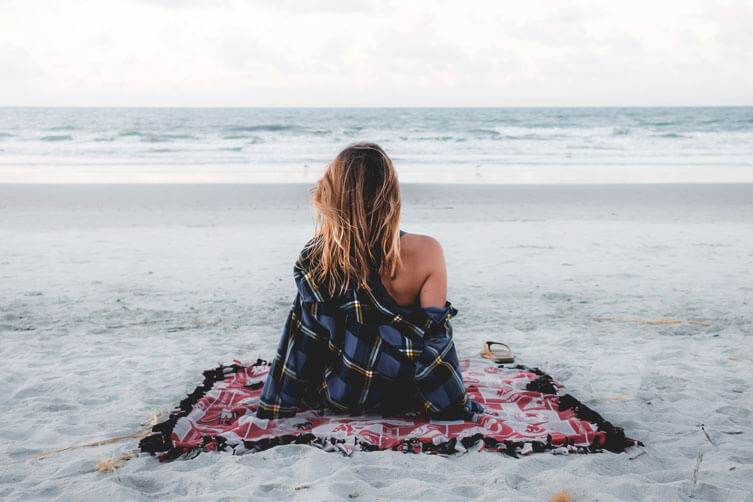 It can be disappointing when the ones you depend on the most, can't seem to meet your deepest needs of love and belonging when you need it the most.
A parent. Your closest friends. A significant other. Maybe your faith community.
It's easy for us to give others the expectation of fulfilling us at our lowest moments when in reality, we find these relationships still have their limitations. You may be deeply struggling with depression, anxiety or a diagnosis and those around you either don't take it seriously, think you're being dramatic, preach at you with little empathy, or simply check out because they cannot relate. One might argue that it's not that they don't genuinely love and care for you, but they are loving the best way they know how based on the range of knowledge and experience they've obtained up to this point in their lives. Now, that's not an excuse for anyone to stay where they are and not commit to the growth of understanding others. But the hard truth is, this is just the state of many people.
And it might currently be a reality for you.
I have to tell you that you are not weak or needy for desiring the understanding and belonging of others. These are basic human needs that we all need in some form to thrive in our lives. If you were to view the human being through an instruction manual, it is a part of our make-up for basic functioning. We simply were not created to live in isolation. We see this in the very first book of the Bible, Genesis, when God states that it is not good for man to be alone (Genesis 2:18). Many have focused on this passage romantically following the forming of Adam's wife, Eve. However, this can also be seen as a testament to the state of human nature. Even in complete fellowship with God, while on Earth and encased within humanity, no good would come from man being without a shared and complementary human relationship.
In fact, many studies have shown how the relationship between your mental health and social/relational health correlate with one other. One study at Harvard University followed hundreds of people over the course of 75 years and found "the quality of people's relationships as the single clearest predictor of their physical health, longevity, and quality of life" (Scientific American).
So you see, the genuine connection and understanding you are desiring in these moments when you feel misunderstood and unseen are natural desires to have and voids to feel. One of the biggest things I encounter in cases of mental illness is the loneliness within the struggle that makes it that much harder to overcome. But the good news is there are ways to work through the disconnected relationships around you that can help fulfill the need for better support in your life.
Here are a few things to consider when your friends and family don't get your battle with mental illness.
Root Yourself in a Solid Support Group
You may have to do a little homework here to find a group but the upfront work will pay off when you've made a change to your quality of life. Whether it be something like Celebrate Recovery at your church, a peer-to-peer group with NAMI, a support group at your local hospital, or a therapist recommended group—there is a healing component to being able to express some of your deepest struggles and hang-ups with those who "get it" and have been exactly where you are—or may even be able to encourage you from a relatable experience. I'm not saying that this will magically solve your problems because overcoming mental illness often means addressing different dynamics of your life. But on the relational-side of things, this can help meet the needs of belonging and understanding that those presently around you may not be able to fulfill right now. And I would encourage that you keep going even if it feels a little awkward or uncomfortable at first, because, like most relationships, it takes some warming up to in the beginning.
Check out our Faith and Mental Wellness community group on Facebook.

Educate yourself better so you can educate those around you.
Like I said earlier, sometimes those around us can only care for us to the extent of their own personal understanding and experience. Sometimes we struggle harder because we don't even fully understand what's going on within us. This is where education will really help you. It would be beneficial for you and those around you to do more research or even ask a professional about the symptoms and common traits of the diagnosis or current mood disorder that you're facing. By doing this you'll be able to not only begin to manage your own symptoms better by being a step ahead, but you can help others understand what to look out for and how to better care for you when an episode occurs. Don't be afraid to communicate your needs to others. They may not be perfect in meeting them, but helping them become more aware is a step in the right direction.
Learn how to positively sit with being alone sometimes.
I'm going to be completely honest with you. Your journey and experience will not be understood by everyone—and frankly, it doesn't need to be. Having a few solid pillars of people who help hold us up, genuinely care and can soundly speak into our lives is enough. However, in this life, there will be many times where you will have to walk alone. This doesn't mean that others aren't there around you for support or that no one cares about you. What I mean is that there will be moments where only you can sit with your soul and process the work that needs to be done within you. Every one of us has our own journey and inner-dialogue that we live with. Because this is an unavoidable part of life, you're going to have to learn how to sit with yourself in a healthy way when storms come. Here are some ways you can start doing that:
Write a letter of encouragement to your future self to open on rough days.
Post encouraging Bible verses around your house/room to look at and remind you of God's promises.
Create an uplifting worship playlist as your go-to music when you just need His Spirit to wash over your soul.
Speak words of encouragement to yourself using the words "but still". For example, "Today feels like an impossible day, but still, all things are possible with God and He will fulfill His purpose for me."
Try one of these 100 ways to instantly boost your mood.
Have an action plan in place of things to do or practice that has worked for you in the past.
Looking on the life of Christ, I'm more than convinced He was the most misunderstood being to walk this planet. No one could fully reciprocate the depths of His love because it was perfect. No one could completely see God's full purpose for His life and the impact it would have. No one fully understood the depths of His sacrifice and all that He was giving up to step into humanity. Yet because we have a God who became flesh and blood and walked this Earth, through human experience he was able to fully understand the battles we face, the heartbreaks we feel, the inevitable sufferings we carry. And because He is all-knowing and formed you and has walked with you through the course of your entire lifetime, there is no one who understands you more. That is the beauty of our relationship with him. There is someone who understands you completely and, unlike man, who is not pushed away by your flaws. How amazing is it that the same one who fully knows us also fully loves us. If anything, may His love complete you in this truth.
Your sister,
Be sure to also check out Brittney's Faith & Mental Wellness App, now live on both the
Apple
and
Google Play
Stores.