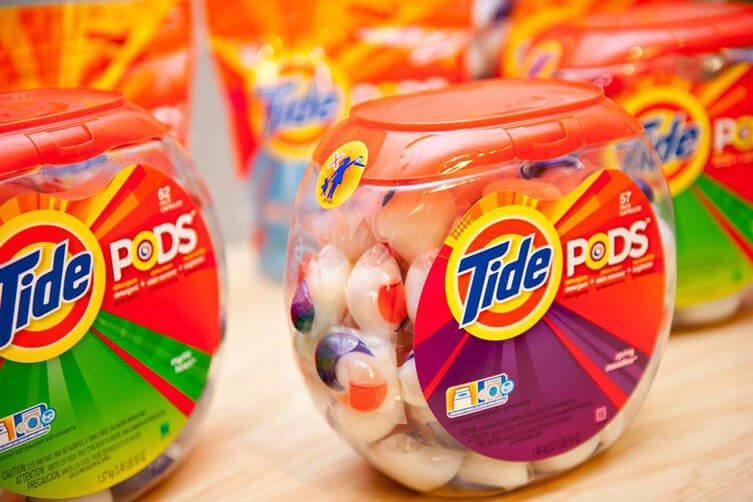 "What should Tide PODs be used for? DOING LAUNDRY. Nothing else."
That's the seemingly obvious warning that Procter and Gamble released on their social outlets this month following a surge of teens who have wound up in the hospital after consuming the laundry detergent packets.
It seems teens will do anything for a couple of likes and a few hundred views on their social feeds, even if it means putting their life in jeopardy.
Last year the trend making its rounds on the internet was the "blue whale challenge," which put teens through 15 days of life-threatening challenges and ended with several teens taking their own lives at the end of the "game."
This season, it's a much quicker dose of danger as teens across the nation continue to take part in what's known as the "Tide Pod challenge." It's exactly what you think it is. Teens record themselves biting into the toxic liquid laundry detergent packets, or cooking them in frying pans before chewing them up and spewing them from their mouths.
Y'all ever just get the urge to eat a tide pod? pic.twitter.com/9vy49VdG7U

— baby doll 👰🏼 (@xangirI) December 31, 2017
Health officials have warned that ingesting laundry detergent can cause seizures, pulmonary edema, respiratory arrest, coma and even death. Tide has even started begging people not to consume their products.
What should Tide PODs be used for? DOING LAUNDRY. Nothing else.

Eating a Tide POD is a BAD IDEA, and we asked our friend @robgronkowski to help explain. pic.twitter.com/0JnFdhnsWZ

— Tide (@tide) January 12, 2018
But the Tide Pod Challenge rages on.
YouTube spokeswoman Jessica Mason released a statement on Wednesday ensuring that the social platform would "work to quickly remove flagged videos that violate our policies."
"YouTube's Community Guidelines prohibit content that's intended to encourage dangerous activities that have an inherent risk of physical harm."
This weekend, a Utah State University student was reportedly rushed to the hospital on Saturday after swallowing a Tide detergent pod. The condition of the unidentified student remains unknown.
"Even if meant as a joke. Safety is no laughing matter," a P&G spokesperson told CBS News.
According to the Association of Poison Control Centers, 25% of the 220 teens who were exposed to Tide Pods last year consumed them intentionally, and half of 37 cases in 2018 to date were intentional, the Washington Post reports.
There is no information yet as to whether or not any of the cases this year have led to death. Nonetheless, consuming liquid detergent can, and does lead to such.
I can't believe it's a sentence that even needs writing, but Y'all, Tide Pods are for one thing, and one thing only: doing laundry. Do not eat these suckers, they are deadly.
If needed, officials urge that you contact the poison-control helpline immediately at 800-222-1222.