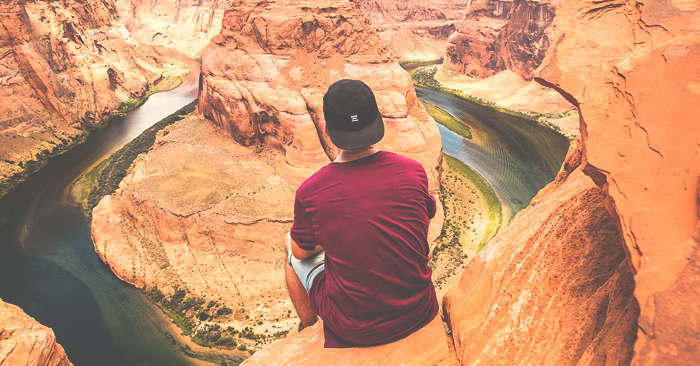 From the time I left Georgia a year ago to work seasonally in the National Parks, I've lost track of how many times I've heard "can I have your life?" or "your life is so much cooler than mine!"
In the beginning, I took those remarks as innocuous compliments, but then I realized how dangerous it could be for me to end those discussions with just an awkward "thank you?"
What started happening was a chancy game of comparison, and I quickly became aware that if I didn't put an end to it, my ego would erupt, and the expectation for my life to stay "impressive" or "adventurous" would only conclude in disappointment.
Here's the thing: My life is hard, just like your nine-to-five job or your college student schedule. Seasonal life in the Parks isn't easier than yours, and living in Montana does not make me immune to sadness or boredom or running out of money.
Instagram or Facebook can only communicate so much of what's really going on. And for as many pictures as I've shared of glistening turquoise lakes or verdant alpine forests or towering mountain passes, I've experienced almost as many moments of loneliness and jealousy and tears spilling down my cheeks.
It would seem that living in such beautiful places would pacify those types of feelings, but I've found that life in remoteness tends to magnify emotions because there's less with which to be distracted.
I've been reading a lot about shame and vulnerability lately, and my friend Brene Brown has a lot of insight on the topics as she's studied them for the last 12 years.
In her book Daring Greatly, she talks about Theodore Roosevelt's speech "Citizenship in a Republic," in which he says:
"It is not the critic who counts; not the man who points out how the strong man stumbles, or where the doer of deeds could have done them better.

The credit belongs to the man who is actually in the arena, whose face is marred by dust and sweat and blood; who strives valiantly; who errs, who comes short again and again,

because there is no effort without error and shortcoming; but who does actually strive to do the deeds; who knows great enthusiasms, the great devotions; who spends himself in a worthy cause;

who at the best knows in the end the triumph of high achievement, and who at the worst, if he fails, at least fails while daring greatly…"
I want you to consider your "arena": a cubicle in downtown Atlanta, the high school track field where you coach or the dining room of the restaurant you manage.
Who told you that life in those places is any less than one spent in another country or in Glacier National Park?
Brene says, "Perfect and bulletproof are seductive, but they don't exist in the human experience. We must walk into the arena, whatever it may be…with courage and the willingness to engage. Rather than sitting on the sidelines and hurling judgment and advice, we must dare to show up and let ourselves be seen. This is vulnerability. This is daring greatly."
I think if we're honest, we'd be willing to admit our lives are far from perfect or bulletproof and that our arenas are just as unique as we are.
The backdrop of my arena may look a lot different than yours for now, but in a short month and a half, I'll be leaving its memories and people of whom I've grown so fond.
I'll pack all I have again and drive another thousands of miles to make Nashville my fourth new home in a year, where I'll start making new friends and learning a new area all over again.
It's scary and uncertain, and I'd much rather stay here because it's become so comfortable. But daring greatly isn't comfortable, and what I said I wanted at the beginning of this year — to be engaged — isn't either.
If I'm going to let myself be seen, and if I'm going to soak the most out of this magnificent life, I have to trust that the discomforts of change will wane in comparison with the connections and joy that await me in my next arena.
I want you to know that by simply showing up in whatever your arena may be, and engaging in what's going on around you and with the people whose lives intersect yours, you are living a magnificent life.
And you can tell the critics — be they outside sources or your own internal voice — to keep quiet. Because you're the one fighting and striving and risking time and emotion in your arena, and the last time I checked, that takes a hell a lot of courage.