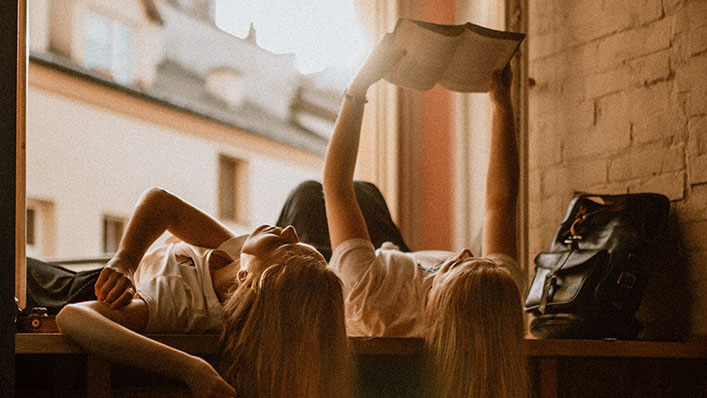 These Bible verses are about loving others by focusing on the greatest commandment in the Bible: Love your neighbor as yourself.
Jesus came and paid the ultimate sacrifice for our sins — not because we deserved it, but because He was a living, breathing example of loving others well. We love because He first loved us. (1 John 4:19)
Knowing how to love others well is something we are called to in our pursuit of a life that's on fire for Jesus.
These 15 Bible verses about loving others well are just what you need to live life more like the Lord today!
1. "Dear friends, let us love one another, for love comes from God." (1 John 4:7)
2. "Two are better than one, because they have a good return for their labor: If either of them falls down, one can help the other up. But pity anyone who falls and has no one to help them up. Also, if two lie down together, they will keep warm. But how can one keep warm alone? Though one may be overpowered, two can defend themselves. A cord of three strands is not quickly broken." (Ecclesiastes 4:9-12)
3. "About brotherly love: You don't need me to write you because you yourselves are taught by God to love one another." (1 Thessalonians 4:9)
4. "But Ruth replied, 'Don't urge me to leave you or to turn back from you. Where you go I will go, and where you stay I will stay. Your people will be my people and your God my God. Where you die I will die, and there I will be buried. May the Lord deal with me, be it ever so severely, if even death separates you and me.'" (Ruth 1:16-17)
5. "My command is this: Love each other as I have loved you. Greater love has no one than this: to lay down one's life for one's friends." (John 15:12-13)
6. "You are the people of God; he loved you and chose you for his own. So then, you must clothe yourselves with compassion, kindness, humility, gentleness, and patience. Be tolerant with one another and forgive one another whenever any of you has a complaint against someone else. You must forgive one another just as the Lord has forgiven you. And to all these qualities add love, which binds all things together in perfect unity." (Colossians 3:12-14)
7. "And if I give all my possessions to feed the poor, and if I surrender my body to be burned, but do not have love, it profits me nothing." (1 Corinthians 13:3)
8. "This is how God showed his love among us: He sent his one and only Son into the world that we might live through him. This is love: not that we loved God, but that he loved us and sent his Son as an atoning sacrifice for our sins. Dear friends, since God so loved us, we also ought to love one another." (1 John 4:9-11)
More Bible Verses About Loving Others
9. "The one who loves his brother or sister remains in the light, and there is no cause for stumbling in him." (1 John 2:10)
10. "Love is patient, love is kind. It does not envy, it does not boast, it is not proud. It does not dishonor others, it is not self-seeking, it is not easily angered, it keeps no record of wrongs. Love does not delight in evil but rejoices with the truth. It always protects, always trusts, always hopes, always perseveres." (1 Corinthians 13:4-8)
11. "Above all, love each other deeply, because love covers over a multitude of sins." (
1 Peter 4:8
)
12. "For the entire law is fulfilled in keeping this one command: 'Love your neighbor as yourself." (Galatians 5:14)
13. "Be completely humble and gentle; be patient, bearing with one another in love." (Ephesians 4:2)
14. "But love your enemies, do good to them, and lend to them without expecting to get anything back. Then your reward will be great, and you will be children of the Most High, because he is kind to the ungrateful and wicked." (Luke 6:35)
15. "'For I was hungry and you gave me something to eat; I was thirsty and you gave me something to drink; I was a stranger and you took me in; I was naked and you clothed me; I was sick and you took care of me; I was in prison and you visited me.'  "Then the righteous will answer him, 'Lord, when did we see you hungry and feed you, or thirsty and give you something to drink? When did we see you a stranger and take you in, or without clothes and clothe you? When did we see you sick, or in prison, and visit you?' "And the King will answer them, 'Truly I tell you, whatever you did for one of the least of these brothers and sisters of mine, you did for me.'" (Matthew 25:35-40)