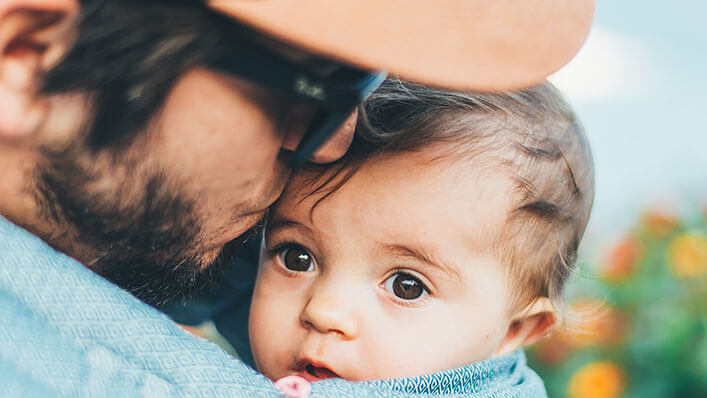 I have three dads. No, not under the same roof, but all with the same name, Father. I have a biological father. He is part of my chemical makeup. I see him when I look in the mirror or at my older brother. I see him in my childhood. He left when I was a young girl. I have not seen him in over 25 years.
I have an earthly father. This man walked into my life like a guardian angel. He swooped up a broken child and taught her to have confidence, kindness and compassion. He was present. When I think of patience and love, this man is the example. With no reason but love, he chose to adopt me, give me his name and become my father. He filled the role the best he knew how and still loves me today. I'm adopted by my earthly father and I call him by name, Dad. He killed the spiders, went to my volleyball games, paid for private school, gave me the wedding of my dreams, helped me through college and told me I could do anything with the help of a different father — a heavenly kind.
I have a Heavenly Father. He knew me before I was formed. He knew I would have two fathers in this world. He gives me extra love and care when I cannot understand the reasons why. He cradles the pieces of my heart so tenderly. He knows when I'm fragile and He sees the tender scars. He has the power to heal and restore. It's pretty amazing. He sent His own son to die for me. He gave me the choice to love Him or abandon Him. I chose Him because He chose me. He speaks peace into my soul when I don't know where to turn. He gives calm assurance when I'm feeling insecure. He gives perfect peace when I don't know what to do.
I used to cry on Father's Day because of past pain. Now, I cry because I realize I am so blessed. I love all my fathers and yes it's complicated, but I wouldn't have it any other way.
What about you? Father's Day can be tough for a lot of people. As you see other people's pictures and posts about their dads and how great they are, I hope you will honor one of your fathers too. If you don't have someone on this earth to honor, I hope you'll honor our Heavenly Father who gave His own son for our sin. His love is greater than anything on this earth. His power is stronger. His name is above every name.
If Father's Day is difficult for you, don't think about what could have been, what was, or what you think should have been, but rather give honor and praise to the amazing Heavenly Father that is deserving of all glory, honor and praise!
Praise ye the Lord. Praise God in his sanctuary: praise him in the firmament of his power. Praise him for his mighty acts: praise him according to his excellent greatness. Praise him with the sound of the trumpet: praise him with the psaltery and harp. Praise him with the timbrel and dance: praise him with stringed instruments and organs. Praise him upon the loud cymbals: praise him upon the high sounding cymbals. Let everything that hath breath praise the Lord. Praise ye the Lord. Psalm 150
Happy Father's Day!
Love & Blessings,
Micah
P.S. For the Dads who stepped in and biblically fathered children who aren't theirs by birth, I want to say an extra special thank you! There's no way to repay you for your act of compassion and love. You've changed Father's Day forever for people just like me. My earthly father is one of the kindest, most compassionate men I've ever known. Thanks for stepping into my life, Dad. I love you.