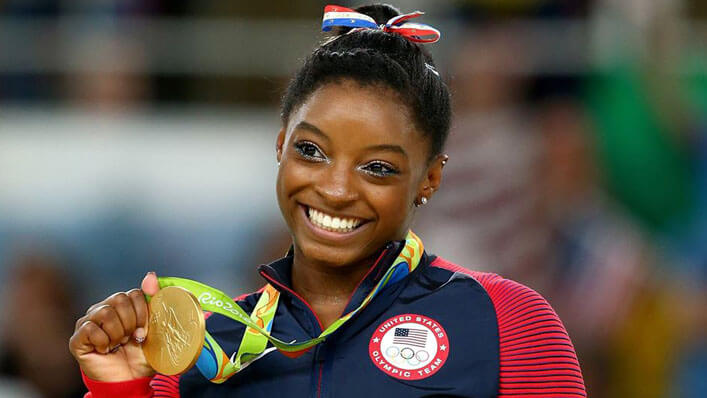 Before former USA Gymnastics doctor, Larry Nassar was scheduled to appear in court on Tuesday, decorated Olympic gold medalist and all-around champ, Simone Biles, joined the ranks of her fellow gymnasts and team members, alleging she too, was abused by the former doctor.
The 20-year-old took to Twitter and Instagram with a penned letter on Monday, in which she acknowledges "special treatment" she received from Nassar throughout her gymnastics career with the team USA.
Feelings… 💭 #MeToo pic.twitter.com/ICiu0FCa0n

— Simone Biles (@Simone_Biles) January 15, 2018
"I too am one of the many survivors that was sexually abused by Larry Nassar," she writes. "Please believe me when I say it was a lot harder to first speak those words out loud than it is now to put them on paper. There are many reasons that l have been reluctant to share my story, but I know now it is not my fault."
Her courageous post echoes those of fellow USA gymnastics stars Aly Raisman, McKayla Maroney, and Gabby Douglas who shared their own #MeToo posts in October, alleging Nassar abused them.
Together, they are just four of the more than 140 girls and women who have come forward accusing Nassar of abuse under the guise of his medical treatment and care.
"For too long I've asked myself, 'Was I too naive? Was it my fault?'" Biles wrote. "I now know the answer to those questions. No. No, it was not my fault. No, I will not and should not carry the guilt that belongs to Larry Nassar, USAG, and others."
Biles, who racked up a record four gold medals and a bronze at the 2016 Summer Games in Rio, is currently in the thick of training for the 2020 Summer Games, something she wrote is "impossibly difficult."
"It breaks my heart, even more, to think that as I work towards my dream of competing in Tokyo 2020, I will have to continually return to the same training facility where l was abused," Biles wrote.
She's referring to the team's national training center at the Karolyi Ranch in Texas. The ranch is a painful reminder to each and every victim—outspoken or not—of the horror, pain, and abuse that was inflicted upon them doing the thing that they love.
Ultimately, Biles says she's been inspired by her "brave friends and other survivors," to share her own traumatic experience.
"I know that this horrific experience does not define me," Biles wrote. "I am much more than this. I am unique, smart, talented, motivated, and passionate. I have promised myself that my story will be much greater than this and I promise all of you that I will never give up. I will compete with all of my heart and soul every time I step into the gym. I love this sport too much and l have never been a quitter. I won't let one man, and the others that enabled him, to steal my love and joy."
She closed the letter by kindly requesting privacy as she continues to work through the pain and process things for herself.
Following Biles' post on Monday, fellow teammate Aly Raisman tweeted a photo of herself and Biles clasping hands—a visual representation of the strength the two share.
💪🏻❤ pic.twitter.com/aKf6rApVlb

— Alexandra Raisman (@Aly_Raisman) January 16, 2018
As for Nassar, the former doctor is on trial in a Michigan court this week where he will be sentenced on seven charges of sexual assault as part of a plea agreement. He was previously sentenced to 60 years in federal court for possession of child pornography. Nassar could face life in prison. The sentencing is expected to take place through Friday, January 19th.