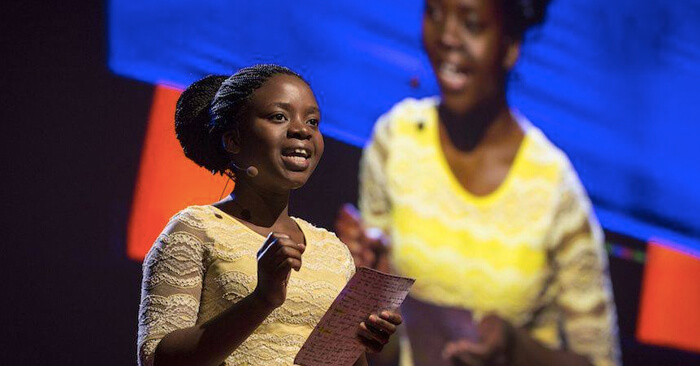 For most teenagers, things like going to the football game, spending time with friends and knocking out this weekend's homework is what occupies most of their free time. At just 13 years old,  Memory Banda was faced with a much different reality — the horror of child marriage.
Banda is from Malawi, where 50 percent of girls are married by age of 18. We're not talking marriage between high school sweethearts. Usually, the men are at least twice — if not three times — the girls' age.
Banda described child marriage as Malawi's most "traumatic tradition."
She said when girls reach puberty — usually around 10 or 11 years old — they are forced into "initiation camps." At the camps, they learn a lot of different things, like how to sexually please a man.
On what they call "a very special day," a man who is paid by the community will go to the camp and have sex with all of the little girls.
He rapes them. 
Most of these girls marry almost immediately. Others become pregnant and drop out of school. "Those who drop out of school really have only one option," Banda explains. "Marriage."
The reality of child marriage is harrowing and robs young girls of their innocence and childhood. "I really need to step up," Banda thought to herself as she witnessed the reality first-hand.  
"Things changed around me when I saw child marriage happening in my own family — my cousins, and sister and those people around me…my peers in my class were being married off," she said. "When I saw that happening in my own family, that is when I really felt this thing of child marriage and the pain that girls have to go through."
Now 19 years old, Banda was able to escape the vicious cycle. Her younger sister Mercy wasn't so lucky. Mercy became pregnant during a traditional sexual "cleansing ceremony" that is intended to prepare girls for womanhood and marriage. Mercy was forced to marry the man who impregnated her, but that marriage didn't last. Nor did the next one. Now 16, Mercy already has three children and little education.
Banda decided to step up and set out to change the lives of Malawi's youth by joining the Girls Empowerment Network — a Malawi-based GNO committed to protecting girls in Africa from unjust traditions. Together with Rise Up and other female leaders, Banda convinced 60 chiefs to pass bylaws that would protect thousands of girls from being forced into childhood marriage in their communities.
"We told them we want education, we don't want to get married when we are 11 years old," she said.
Her ambition led to even more widespread laws banning child marriage in Malawi. In February, Malawi banned all child marriages, protecting more than 4 million girls!
"I would really like to see girls all over the world being educated. I would like to see girls being supported and given equal opportunities in life," Banda said. "I hope that girls all over the world will be able to speak with one voice, stand up for our rights and achieve our dreams all together."