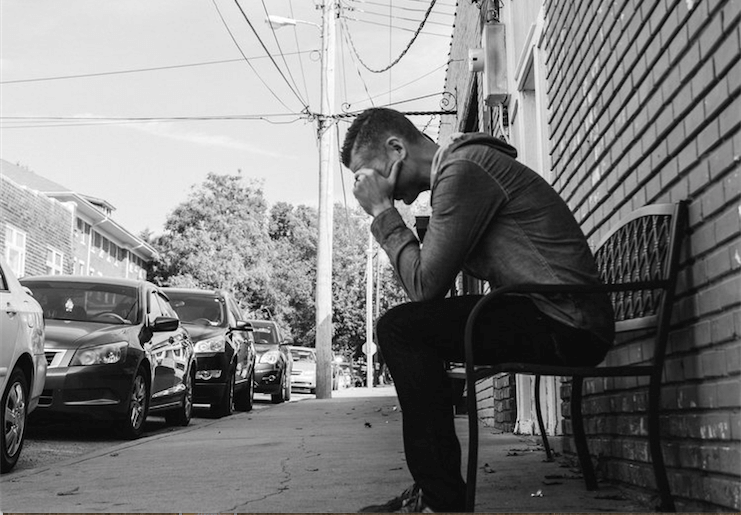 For some of you, the name Jeremy Riddle means nothing. For others that listen to Christian music, this name might be somewhat familiar.
TO ME, JEREMY RIDDLE REPRESENTS A NEW BEGINNING. IT REPRESENTS SURRENDER.
I mentioned earlier that I was standing against the pillar. The room was spinning because of the alcohol that saturated my bloodstream.
As Jeremy sat on his bar stool and began to work through his playlist, I was in disbelief.
THIS IS NOT WHAT I WANTED. THIS IS NOT WHAT I HAD PLANNED.
Often times, God uses His plan to override our plans.
His plan was for me to give in to the temptations of the silent drug. His plan was for me to see the hurt in Shayla's eyes once again. His plan was for me to find myself drunk all alone and in desperate need of my savior, Jesus.
As the evening came to a close, Jeremy began to sing the song, Sweetly Broken. As the music filled the room, my heart opened to hear the words.
At the cross, you beckon me.
You draw me gently to my knees.
And I am lost for words.
So lost in love.
I'm sweetly broken.
Wholly surrendered.
This is when everything changed. I heard Jesus speak to me very clearly even with all of the noise echoing in my head.
This is what I heard.
"Bryan, you gave your life to me over 15 months ago but you didn't give THIS to me. Leave your addiction at the foot of the cross. I will bear your addiction."
While in a drunken daze, the God of the universe reached down and beckoned me. He was begging me to leave my addiction and wholly surrender.
I HAD TO SURRENDER ALL OF ME.
It was at that moment that I put a stake in the ground. I would no longer let the addiction control my life. I surrendered my addiction to Jesus.
I woke up on January 31, 2008 with my final hangover.
I only needed to worry about not drinking for that specific day. I didn't have to worry about the next day. I would worry about tomorrow when tomorrow would become today.
To Jeremy Riddle, thank you.
I hope to one day personally thank you for being the one that God used to play a vital role our story. Sweetly Broken changed not only my life but generations to come.
If anyone reading this knows Jeremy Riddle or has connections with someone who knows him, please forward this post to him to thank him.
To the one reading this that is in the middle of an addiction, you can beat this.
You can beat this but it's not easy. You will have to acknowledge the truth. You will have to take ownership of your actions. Your addiction doesn't care about anything but taking everything away from you.
Don't give in to the lies. The enemy is trying to trick you.
There is hope and a way out of the darkness you are in. If you are willing, there is healing. You have to be willing to wholly surrender just like I did on that cruise ship 10 years ago.
You have to surrender to Jesus and give Him your addiction. He will take the temptation away from you.
13 When you were dead in your sins and in the uncircumcision of your flesh, God made you alive with Christ. He forgave us all our sins, 14 having canceled the charge of our legal indebtedness, which stood against us and condemned us; he has taken it away, nailing it to the cross. 15 And having disarmed the powers and authorities, he made a public spectacle of them, triumphing over them by the cross.
JESUS HAS ALREADY BEAT YOUR ADDICTION. HE HAS DISARMED THE POWER OF THE ENEMY BY DEFEATING THE GRAVE. HE BEAT DEATH SO YOU COULD GAIN LIFE. ALL YOU HAVE TO DO IS INVITE JESUS INTO YOUR ADDICTION.
Lord, forgive me for my decisions.
I cannot do this alone.
Please take this addiction from me and remove the evil desires from the soul.
From this day forward, I am surrendering my addiction.
In Jesus' Name, Amen.
Remember, you only have to say, "not today". You can worry about tomorrow when it gets here. We believe in you.
To the one who is watching a loved one destroy themselves from an addiction, they need you.
Let them know that you believe in them and that you will fight with them against their own demons. They feel like they are on an island by themselves without any hope of ever finding a way home. They need you more than they can express. Don't give up on them. Keep praying for them. Keep fighting for them even if it seems they are not fighting for themselves. It will not be easy but it will be worth it.
To Shayla, I am sorry.
I am sorry for the pain that I caused you all of those years. I am sorry for the late-night calls that I didn't answer. I am sorry for the wasted mornings that I was hungover. I am sorry for the nights out that turned into drunken arguments. You didn't deserve any of it.
Thank you for standing by my side and fighting against the silent drug with me. You chose to fight with me and not against me. Your perseverance is inspiring and your faithfulness is breathtaking. I love you.
[Bryan]