It's not everyday that you see a 6-year-old walking around in a full suit and fedora hat.
Sure, for special holidays or even a wedding, getting dressed up is something normal that mom makes you do. But for this spunky kindergartner, wearing a suit and hat is only the start of what makes him feel alive.
Daniel Keefe and his twin sister were born early, at just 34 weeks. A week after their birth, the hospital told their parents, Mark and Jennifer Keefe, that Daniel had a fever. He had developed a grade-4 bleed on his right ventricle.
Though he would survive, doctors believed he would never reach any milestones such as walking or talking. They told Daniel's parents, "Don't expect much from him."
Danny has childhood apraxia of speech, a neurological motor disorder where he knows the words he's trying to say, and can understand perfectly what's going on, but the muscles in his face and mouth don't allow him to properly form words.
His older brother, Timmy, plays on the Bridgewater Badgers pee wee football team in their hometown of Bridgewater, MA.
Danny began going to the practices.
Coach Tom Cooney said, "You know, you spend five minutes with the kid, and you know that he's got what it takes to be a football player." He continues, "All you need is heart, passion, enthusiasm, and Danny has all of those things, in spades."
They made him the team's water coach. The band of boys have rallied around Danny with the hopes of making his life better. In the process, it's no surprise that he's also helped to make their lives better.
Eleven-year-old teammate Brett Jackson says, "He's really good to have on the football team. You always look forward to going to the practices just to see him."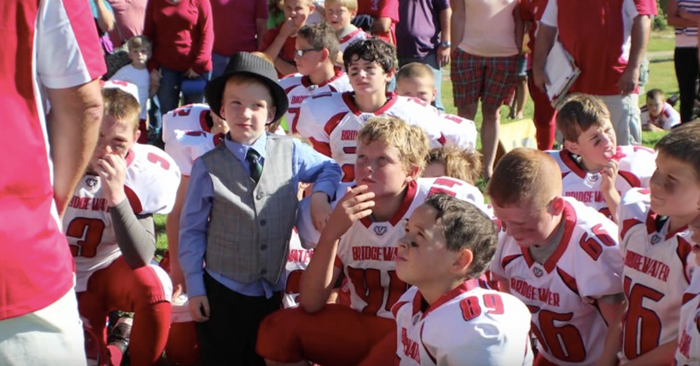 Danny was getting picked on at school. Kids were making fun of him for wearing suits, and for not being able to speak properly.
The Bandits were not going to have that. Danny is their friend and brother, and they all believed strongly that you shouldn't pick on another kid for their inability to do something.
The team says they look up to Danny and all of their friends look up to Danny. "We decided to wear suits to show support for him," said teammate Tommy Coon. "I told a bunch of my friends and they told a bunch of their friends, and he told one friend, and that friend told another friend."
On November 20, 2013, over 40 boys wore suits to Williams Intermediate School in support of their friend and teammate, Danny Keefe.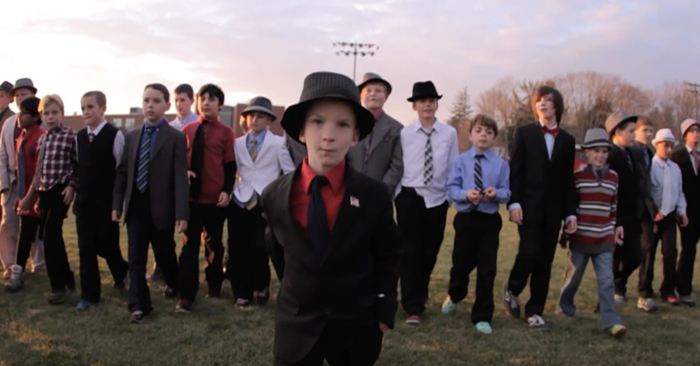 "Danny just influences us all," says 11-year-old Zack Whiting. "He's the heart and soul of our team, he's a leader."