There's a new social media campaign taking the Internet by storm. It's as simple as holding up four fingers then snapping a selfie, and using the hashtag #1in4. Some of Hollywood's biggest names are joining the ranks, for all the right reasons.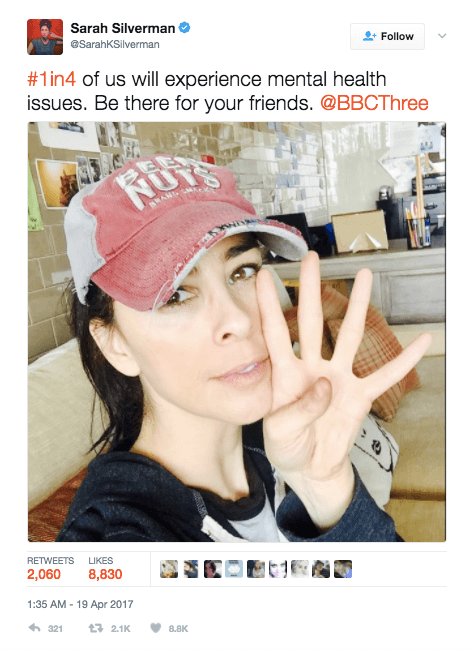 BBC recently launched their #1in4 campaign, which has partnered up with the network's Minds Matter programming to emphasize the normalcy and existence of mental illness.
"One in four of us will experience some kind of mental health problem over the course of a year—so most of us will either have experienced it ourselves or know at least one person affected by it," according to the campaign site.
Mental health is personal for celebrities like Kristen Bell, who has been one of Hollywood's biggest mental health advocates for years.
At the age of 18, Kristen learned that an imbalance of serotonin ran in her family—putting her at high risk of mental illness. After now having battled anxiety and depression for years, Kristen recalls what her mother told her early on in her diagnosis:
"If you do decide to go on a prescription to help yourself, understand that the world wants to shame you for that, but in the medical community, you would never deny a diabetic his insulin," her mother said. "But for some reason when someone needs a serotonin inhibitor, they're immediately crazy or something."
The actress says that while she appears to have a bubbly and fun-loving personality, it's really just a front she uses to cover the dark struggles behind her smiles.
"I'm extremely codependent. I shatter a little bit when I think people don't like me," she admitted. "Part of why I lead with kindness and I compensate by being very bubbly all the time is because, I don't know, it really hurts my feelings when I'm not liked, and I know that's not very healthy, and I fight it all the time."
#1in4 is making it easier than ever to be open and honest about mental illness. It's putting celebrities like Kristen Bell, Sarah Silverman, Tom Hardy and many others front and center to be catalysts for changing the way society sees mental health.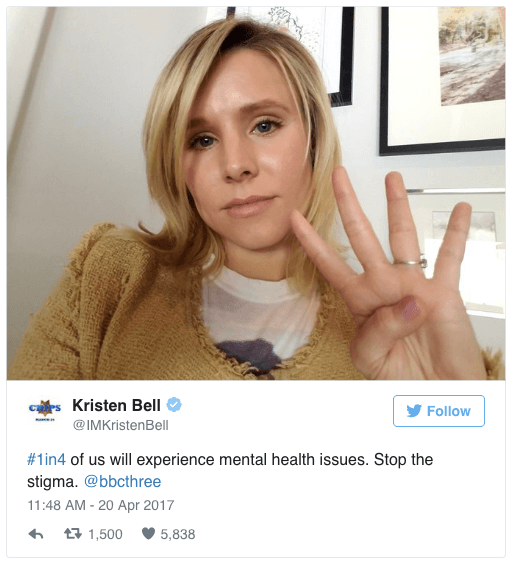 The campaign is about breaking through the stigma associated with mental illness and starting the conversation that so many hide from.
Since its launch on April 18, more than 20,000 people have shared a photo using the hashtag #1in4. Whether it's sharing a personal experience with mental illness, or showing support to those who suffer in silence, we all have a part in erasing the stigma.
You can participate by sharing a selfie on social media with the hashtag #1in4.