As the opioid epidemic continues to plague parts of the U.S. we're seeing more and more addictions, deaths and lives destroyed.
There are no greater victims than children—something that Blaine Hamilton and her family have witnessed firsthand.
The 21-year-old from Alvord, Texas, is one of three—about to be four—children. A little over a year ago they welcomed Blaine's baby cousin, Coleman, into the family as one of their own after he was born into a life-threatening household.
That's because Coleman's birth parents have battled drug addiction for years. Shortly after his birth, the infant developed a condition called pyloric stenosis, which affects the gastrointestinal tract and can cause a baby to projectile vomit.
"He was…malnourished and exposed to harmful drugs," Blaine's mother, Kaysi, explained. "He was taken by care flight to a children's hospital at 8 weeks old."
Coleman had surgery on his stomach for the condition
As a result of that incident, the Hamiltons say Child Protective Services got involved, and Coleman was removed from his parents' care. Extended family was contacted to see if anyone would take the child and help raise him.
Kaysi and her husband, Randy, didn't hesitate.
"My parents were like, 'We'll take him,'" Blaine said. "'We'll go to the hospital.'"
"He was my brother's son," Kaysi said. "So knowing that he is with his biological family and that he will grow up with his grandparents, aunts, uncles, cousins, etc. is comforting and rewarding to us."
The process was quick and intense as the Hamiltons had just one week to prepare their home and family for a baby.
They purchased baby items, baby-proofed the house and had to coordinate each family member's schedules to ensure babysitters were lined up for times when everyone was working or busy.
The Hamilton's have a renewed appreciation for the phrase "It takes a village," as they've been surrounded by an entire community of friends, family and neighbors who have stepped up to help.
"People we knew—we live in a really small town—actually showed up and brought us stuff," Blaine said.
Kaysi admits that starting over with a newborn was an overwhelming transition for the family, but they knew it was the right decision.
Now 17 months old, Coleman is healthy, happy and growing.
The toddler is no longer affected by pyloric stenosis, and he's gained a substantial amount of weight.
Though Coleman has been a member of their family for 15 months, Blaine's parents only just recently gained guardianship of him last Thursday.
However the adoption process will be finalized within the next 30 days, and Coleman will officially be a member of the Hamilton tribe.
Excited about the process, and her parents being granted permanent custody, Blaine took to Twitter last week to share her soon-to-be brother's incredible journey.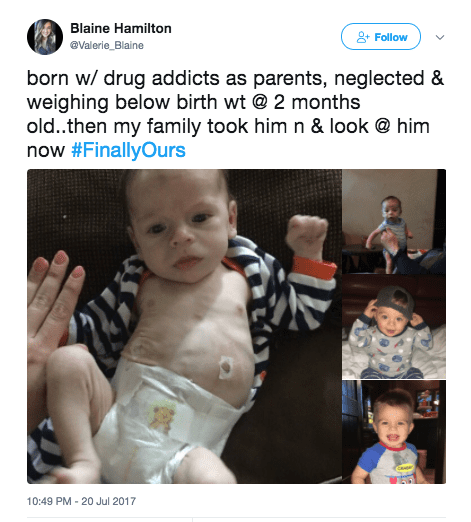 "Born w/ drug addicts as parents, neglected & weighing below birth wt @ 2 months old..then my family took him n & look @ him now #FinallyOurs"
Twitter users everywhere responded BIG TIME with an outpouring of love and support for the Hamiltons.
"We are awestruck by the support on Twitter around the world," Kaysi said. "There are some beautiful souls out there."
She added that their hope is for Coleman's "brief moment of fame" to have a "greater purpose."
"He represents the struggles that people around the world are facing every day in silence, fear and darkness…. We pray he is a message of hope—that maybe one person will stop using, or one person will foster a child, or a child of drug-addicted parents will know that there is hope."
As for Blaine, she says Coleman's life wasn't the only one that changed for the better when he joined their family.
"We've all changed because of him. We all became different people because of each other. We all grew. Coleman grew healthier, and we grew, emotionally and mentally."
Kaysi says her "smart and healthy little boy" is a world changer with a big future ahead of him.
"We know that God has a special purpose for him."